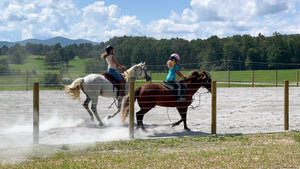 Shop our Horse Fence Products
Safe Fence for Horses
Easy to Install Wire Fencing
Do It Yourself with our Step by Step Instructional Video
"Worth Every Nickel"
"This is absolutely wonderful fencing! Have had some up for almost 20 years with minimal spring fence work! Safe for my horses and no breaks if the deer pop it or a tree comes down in winter. Worth every nickel!!!"
Jean Freese-Popowitch, Feb 2022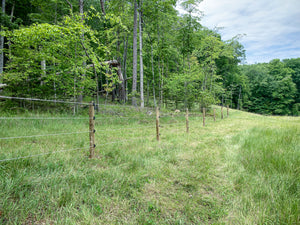 Installation a Breeze
My daughter and I just completed the installation of my Cameo fencing. How easy! This is awesome fencing! Not only was the installation a breeze, but it looks great! Best horse fencing on the market!" Thanks!
Mark - Sheridan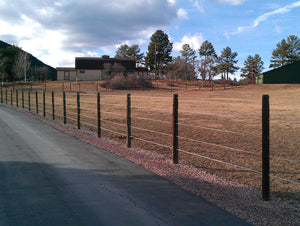 Facebook Comment
"This stuff is amazing!" March 2022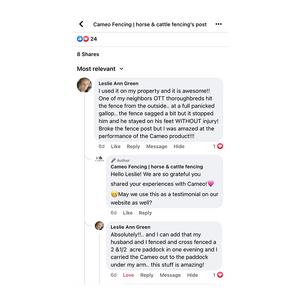 Testimonials
I've had my Cameo Fencing for 19 years now
I've had my Cameo Fencing for 19 years now and am just now replacing parts of it!!! It's a Fantastic product. Customer Service is Excellent. Also, as far as safety for horses... I have a Belgian Draft horse that weighs 2000 lbs. One day I was taking down a tent in my arena and didn't notice that he was in the same area. It scared him so much that he decided to jump out of the arena and his back legs got stuck on the top strand and it stretched for quite a way and then snapped!!! When I retrieved him and checked him out I noticed that he was absolutely fine (except for a little nervous) and there was just a tiny bit of hair missing from his back legs. Never even touched the skin. Remarkable Product. Highly Recommend!
- Jane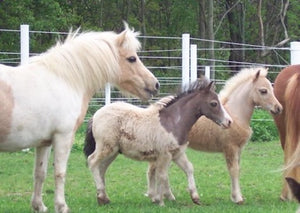 People Want to Know Where I Purchased this Fence!
in my pasture for the last three years.  I couldn't have asked for a better product for my horses and my pasture.  I truly love Cameo Fencing.  It requires very low maintenance and it is very safe for my horses.  I have neighbors & people that are just driving by in their cars and have seen my fence and want to know where I purchased it from so that they can check into getting this fencing for their horses.
Alvarez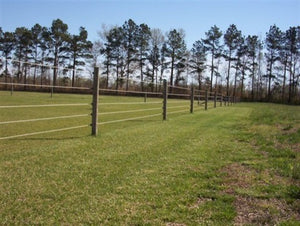 Love mine! Now installing my Daughters' Cameo Fence
I have had your fence for over 15 years and have been very happy with it. Now building one for my daughter.
Barry Belton, Battleboro NC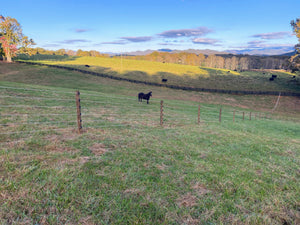 Online Review
"We LOVE it!!! The company was based in NC when we were doing our 100 acre horse farm. We used Creosote Boards, Diamond mesh and Square Deal horse fence in many areas and perimeter, but did a lot of larger and BIG pastures with the Cameo. 20 years later…and we have moved to Ok…the fence is still standing in NC and we have partial rolls we use on our farm in Ok. Our new farm in Texas will also be cross fenced with Cameo!! The trick is to use a good HOT top wire and bottom wire with 2 strands of Cameo for the center lines…that allows you to cross through the fence line as necessary without running to a gate, but keeps the horses honest and on their sides. Over the years we had several foolish young/race horses blast into the fence and never got so much as a hair out of place. The polyfence broke at a fastener (easily fixed) or simply stretched until the horse back away and then returned to its proper position. To most observers it "looks" like Hi-Tensil ( a fence I would NEVER use with horses) but was described to me by the manufacturer as a "Giant Fishing Line). It is a very good investment (downright cheap compared to many fences), SUPER safe for the horses and lasts. It was invented in Australia and tolerates sun and cold…doesn't get brittle."
- as discovered on "The Chronicle of the Horse" Jan. 2017
Still in Place Through Harsh Temperatures
in the mid 90's. I have been very happy with the product. I still have most of the cameo still in place even with the harsh temperature changes in Michigan. I am going to be buying more soon, Great product. It kept our horses in for years and it's simple to replace.
Joel Mires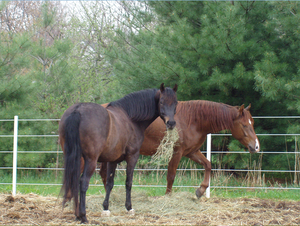 Best Choice for Horse Fencing!
Installing a horse fence is easy with the Cameo horse fencing system. We have everything you need to to create a great fencing system on posts of your choosing: treated wood, steel, PVC, or vinyl. Join the 1000's of satisfied customers who use Cameo horse fencing!
Boost Your Horse Fencing System with Maxi Grunt!
The most durable, flexible electric fence system is here for your horse. The Cameo Maxi-Grunt System cannot be matched by other conductive horse fencing systems. Only available through Cameo Horse Fencing. And Installation requires only basic tools! Combine Maxi-Grunt with Cameo Horse Fencing for a superb system to protect your valuable horses. Get started here.  
GET THE SIMPLE HORSE FENCING SOLUTION!
Buy Now
Trust Your Horses to Cameo, the Safe Horse Fence System
We are so confident you will love the Cameo horse fencing system that we back it with our industry leading warranty. Cameo is the safe, durable, and cost effective horse fence option.
Horses trust and adjust quickly to Cameo. We believe that the biggest fans of your new Cameo horse fence system will be your horses!